Clover Overseeding Mix
5-6 year cutting and grazing mixture
Pressure on maintaining fields in production and the cost of traditional re-seeding techniques has inspired the development of machines designed to renovate and revitalise pasture.  Success is not guaranteed and careful planning is required.  Effective renovation needs to be done with care and attention to detail.  Many of our grass mixtures are suitable for renovation, mix choices being dependent on soil type, area and planned use of the field.
Certain mixtures are more appropriate than others.  Hybrid 3x3 and Grassmaster HS are ideal, due to high vigour and the flexibility of management.  If the objective is to introduce clover and thicken up the grass in the sward, then Clover Overseeding Mix is recommended.
In our experience seed-box/rake combinations are not as effective as direct drilling or slot seeding, unless a very good tilth is created and the sward is relatively open.  Swards need to be cut or grazed as short as possible before seeding and grazed immediately afterwards until the new seedlings are showing through.  For a full blueprint on renovation ask for our 'Pasture Renovation or Reseeding Without Ploughing  Guidelines'.
Clover Over Seeding Mix
A blend with 50% of the normal grass rate combined with 100% White Clover rate. It is designed for introducing White Clover into a sward while also boosting the grass content.
Mixture
Login to view data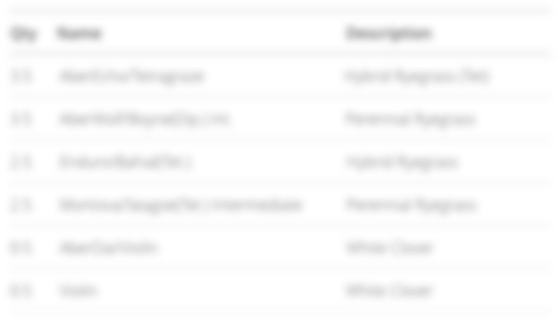 Features
Rapid establishment
Produces a dense, hard wearing sward
Persistent clover varieties
Adaptability to a wide range of management regimes
Seed Rate
7.0 kg/acre
17.0 kg/ha